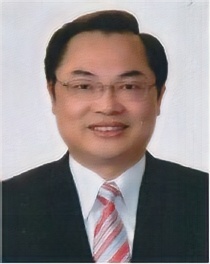 Auditor General Jui-Min Chen was born in 1955, in Chiayi County, Taiwan. He was awarded a master's degree from the Institute of Business and Management, National Chiao Tung University, and a bachelor's degree from the Department of Accounting, Feng Chia University. He passed the higher civil servant examination for auditors and accountants. Mr. Chen served as the Deputy Director of the Directorate of Budget, Accounting and Statistics, Taiwan Provincial Government, the Deputy Director of the Central Office, Directorate of Budget, Accounting and Statistics, Executive Yuan, the Comptroller of the Coast Guard Administration, the Comptroller of the Ministry of Transportation and Communications, the Director of First Bureau, Directorate-General of Budget, Accounting and Statistics, Executive Yuan (DGBAS), the Administrative Deputy Comptroller General of DGBAS, and the Political Deputy Comptroller General of DGBAS. He was selected as the outstanding accounting and statistics officer and the model civil servant of DGBAS in 1990 and 1995 respectively, and awarded the third-class accounting professional medal and the second-class accounting professional medal in 2004 and 2009 respectively. In 2019, Mr. Chen was nominated by the President and approved by the Legislature to be the Auditor General on October 2nd, 2019.
When the Legislature held a Committee for the approval of Mr. Chen's nomination, he presented a report, signifying that he will demonstrate his professionalism in dealing with government finance, budgeting and accounting of final accounts, and accounting systems and adhere to core values of the National Audit Office: independence, integrity, professionalism and innovation, making efforts in the following areas to maximize the value of government auditing and make a difference to the lives of citizens:
Implement Oversight: continuously supervising government financial activities strictly, enhancing the auditing of government expenditures, compliance of regulations, and implementation of construction plans, and proposing opinions for accountability in order to promote the transparency and discipline of government finance.

Strengthen Insight: enhancing performance auditing through the result-oriented approach, sharing best practices and providing management consulting services among government agencies, and proposing recommendations related to the increase of effectiveness or public interest in order to promote the effectiveness of government finance and the effective use of public resources.

Facilitate Foresight: introducing advanced auditing techniques, assisting government agencies in identifying emerging trends and potential risks, and proposing early warning opinions in order to promote government good governance and achieve national sustainable development.